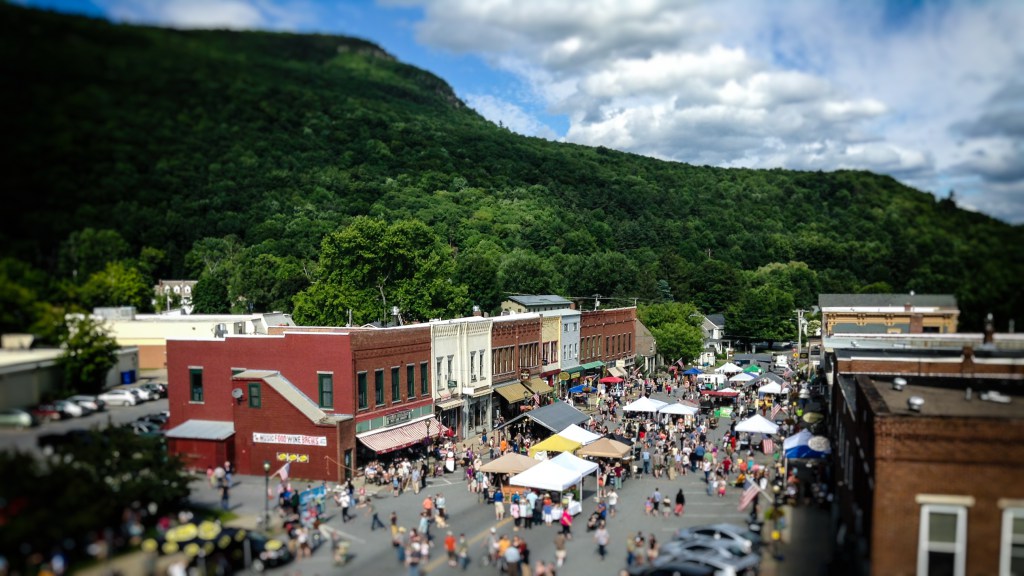 The Pocock Rocks Music Festival & Street Fair celebrates Bristol, Vermont as a great place to shop, dine, live, work, and visit.
The event will feature live musical performances from seven well-known and loved regional bands, and host over 30 vendors from microbrews, wine, hard ciders, and spirits, to specialty foods, gifts, and crafts. There will also be activities for the kids, the SunCommon Bouncy House, the Vermont National Guard, and, of course, our own incredible restaurants and shops.
Why Pocock? Our town was originally founded as Pocock on June 26th, 1762, in honor of a distinguished English admiral. The town's name was changed, for unknown reasons, to Bristol about 25 years later in 1789.
Our music and entertainment lineup this year:
3:30-4:00pm
Richard Ruane and Beth Duquette
[EAST STAGE]
4:00-4:30pm
The Tim Brick Band
[WEST STAGE]
4:30-5:00pm
The Welterweights
[EAST STAGE]
5:15-6:00pm
Steady Betty
[WEST STAGE]
6:00-7:00pm
The Eames Brothers Band
[EAST STAGE]
7:00-8:00pm
The Starline Rhythm Boys
[WEST STAGE]
–————
Live Music continues after 8:00pm:
At Hatch 31 with an
encore performance by
The Welterweights
Our Main Street lineup this year:
EAT
Farmers and Foragers
Haymaker Buns
Local Source
Lucky Star Catering
lu.lu ice cream
Mediterranean Mix
Streetgreens
Thai@Home
The Bobcat Cafe and Brewery
Bristol Cliffs Cafe
Cubbers Restaurant
Hatch 31
Farmhouse Chocolates + Ice Cream
Snap's Restaurant
Wokky's Chinese
DRINK
14th Star Brewing Company
Appalachian Gap Distillery
Boyer's Hard Ciders and Wines
Champlain Orchards
Halyard Brewing Co.
Havoc Mead
Hired Hand Brewing
Hogback Mountain Brewing
Rainbow Ice
Stonecutter Spirits
Will's Lemonade
Zero Gravity Craft Brewery
The Bobcat Cafe and Brewery
SHOP
Alixandra Barron Designs
Good Vibes Tie Dye
Island Girl Jewelry
Lightheart
Yasuri Art
Art on Main
EmeraldRose Gifts
Recycled Reading of Vermont
Vermont HoneyLights
Vermont Marketplace
Vermont Tree Goods
Yarn & Yoga
FUN
Let's Grow Kids
Hands-ON Puppets & Lawrence Memorial Library Puppet Theatre
Rights & Democracy
Rooted in Vermont
STEAM Vermont
SunCommon Bouncy House
Vermont Face & Body + Henna
Vermont National Guard
EVENT SPONSORS
The Bobcat Cafe and Brewery
Bristol Animal Hospital
Bristol Financial Services
Bristol Park Dental
Bristol Suites
Casella Waste Systems
Conner & Buck Builders
Heffernan Brothers Aggregate
National Bank of Middlebury
Smith & McClain Builders
Waitsfield and Champlain Valley Telecom
COMMUNITY SPONSORS
SchoolHack Solutions
Yarn & Yoga
Money raised from the Pocock Rocks Music Festival & Street Fair supports the community-building efforts of Bristol CORE.